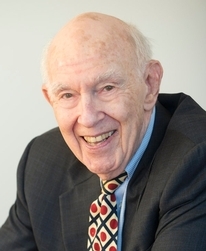 Herbert H. Alpert (1932 - 2017)
IN MEMORIAM
CONTACT INFORMATION

V-Card
We celebrate the life and mourn the loss of our dear friend and colleague, Herbert H. Alpert, who died on April 13, 2017. He was a valued source of counsel to the firm and our clients. Herb will be greatly missed.

Herb joined the firm in 1999 as a partner, mentor and counsel after spending over 40 years with Roberts & Holland where he was a senior partner, outside of a brief period spent in the government. During that period, Herb worked at the Office of Tax Legislative Counsel, U.S. Treasury Department for which he received an Office of the Secretary honor award in recognition of his outstanding service. Herb received his J.D. from Columbia Law School where he was an editor of the Law Review. He received his B.S. from the University of Pennsylvania, Wharton School of Finance.

During his illustrative career, Herb acted as lead counsel to some of the largest real estate developers in North America in connection with structuring and implementation of their varied arrangements. He also served as counsel to foreign governments in negotiations of their tax treaties and other matters. Until his passing he was a co-editor of the International Department of The Journal of Taxation.